Helle Fagralid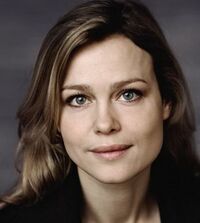 Date of Birth
May 11, 1975
Birthplace
Helsingør, Denmark
Helle Fagralid is an actress based in the Denmark.
Fagralid made her debut as an actress in 1987 in the movie Negerkys og labre larver. She's most famous for her role in the Emmy-winning TV series Nikolaj og Julie. She's also in the TV series Jul i Valhal, Store drømme and Blekingegade.
In Forbrydelsen she plays Maja Zeuthen. She is a starring cast member in the third season.
Ad blocker interference detected!
Wikia is a free-to-use site that makes money from advertising. We have a modified experience for viewers using ad blockers

Wikia is not accessible if you've made further modifications. Remove the custom ad blocker rule(s) and the page will load as expected.