Neel Rønholt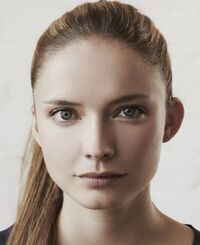 Date of Birth
17 September, 1984
Birthplace
Copenhagen, Denmark
Neel Rønholt is an actress based in the Denmark.
Rønholt made her debut as an actress in 2001 in the movie Anja & Viktor. She's most famous for her role in the movies Min søsters børn, Min søsters børn i sneen and Min søsters børn i Egypten. She's also in the movies Råzone, Kollegiet and Dig og mig and in TV series Rejseholdet, Forsvar, Isa's Stepz, Borgen and Ludvig & julemanden.
In Forbrydelsen she plays Eva Lauersen. She will be a guest cast member in the third season.
Guest starring
Edit
Season three credits
Episode 31
Episode 32
Episode 33
Episode 34
Episode 35
Episode 36
Episode 37
Episode 38
Episode 39
Episode 40
Ad blocker interference detected!
Wikia is a free-to-use site that makes money from advertising. We have a modified experience for viewers using ad blockers

Wikia is not accessible if you've made further modifications. Remove the custom ad blocker rule(s) and the page will load as expected.