Thomas W. Gabrielsson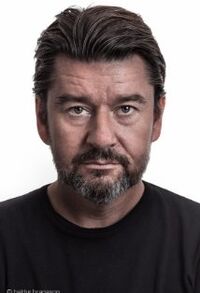 Date of Birth
June 29, 1963
Birthplace
Gothenburg, Sweden
Role
Status
Appeared in
{{{Appearances}}}
Thomas Waern Gabrielsson is an actor based in Sweeden-Denmark.
In Forbrydelsen he plays GM. He joined the cast as a recurring guest star in the third season.
Guest starring he played the guy who kidnapped Emilie Zeuthen, seeking revenge for his Daughters death. 
Edit
Season three credits
Episode 31
Episode 32
Episode 33
Episode 34
Episode 35
Episode 36
Episode 37
Episode 38
Episode 39
Episode 40
Ad blocker interference detected!
Wikia is a free-to-use site that makes money from advertising. We have a modified experience for viewers using ad blockers

Wikia is not accessible if you've made further modifications. Remove the custom ad blocker rule(s) and the page will load as expected.